Aachen International Jumping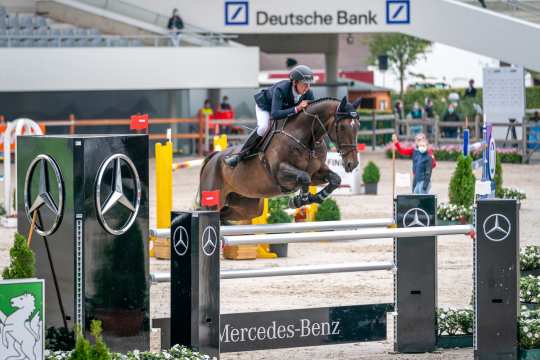 World elite at the CHIO Aachen showgrounds
International show jumping event in the Deutsche Bank Stadium
It was the best show-jumpers in the world, who competed in the Deutsche Bank Stadium on the traditional CHIO Aachen show grounds from September 4th to 6th, 2020. 50 international top riders and 25 of the best young riders took part in the "Aachen International Jumping". Also 300 spectators were admitted on the basis of the current regulations. For this purpose, a hygiene and safety concept was developed in close coordination with the authorities.
All news about the Aachen International Jumping:
Aachen International Jumping thanks its partners for their support.
The Deutsche Bank Stadium
The Deutsche Bank Stadium in the heart of the CHIO Aachen showgrounds is one of the most famous equestrian sport arenas in the world. Built in 1999, it originally held 5,100 spectators. After the construction of the ultra-modern East Stand in the year 2014, which was designed by "kadawittfeldarchitektur", the capacity increased up to 6,300 spectators.
At the CHIO Aachen the Deutsche Bank Stadium is traditionally the home of the best dressage horses and riders in the world. Whereby, the arena has also accommodated the vaulters and Western riders for World and European Championships, a temporary roof was erected over the stadium for this purpose. In the scope of the Aachen International Jumping, the Aachen-Laurensberger Rennverein e.V. used the arena for the first time ever to stage international jumping classes. Due to the Corona pandemic, only 300 spectators were admitted.
01
02
03
04
05
06
07
08
09
10
11
12
13
14
15
16
17
17