CHIO Aachen Guidelines
The CHIO Aachen is aware of its responsibility regarding climate and environmental protection as well as striving towards ensuring a fair and social togetherness. This responsibility is both an obligation and a mission. Our aim is to handle resources sparingly, reduce the environmental impact of our actions, save energy and act as sustainably and socially as possible.
We would like to involve all of the CHIO Aachen stakeholders in these efforts and animate them to handle people and resources in a responsible manner: This applies for employees and exhibitors, as well as for business partners, athletes and media representatives.
The main focus of our measures lies on the one hand on event-specific themes such as energy, waste, transport and accessibility. However, we also see ourselves obliged to act sustainably throughout the year beyond the show days of the CHIO Aachen.
Our aim: To turn the CHIO Aachen into a "green event". We already created awareness for this goal at an early stage, for instance by initiating projects such as the "Garden of Eden". It is thus matter of course for us that the focus of the planning lies on social and ecological sustainability, also in the case of future projects of the CHIO Aachen.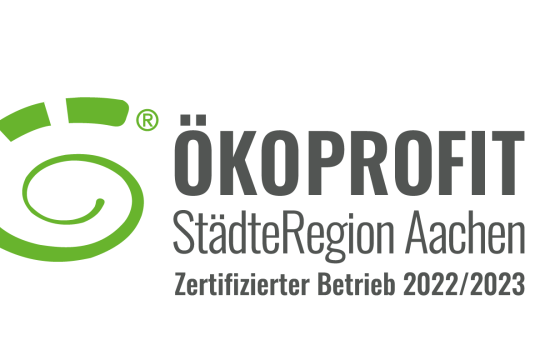 Certified company 2022/2023
The CHIO Aachen has been an officially certified company in the ÖKOPROFIT programme of the City of Aachen and the StädteRegion Aachen. This programme is intended to help companies and institutions to establish a practicable and at the same time highly efficient eco management system. In the past twelve months, the CHIO Aachen team has further reduced its own consumption of resources and thus not only relieved the burden on the environment, but also lowered operating costs. We would like to involve all CHIO Aachen stakeholders in this action and encourage them to deal responsibly with animals, people and resources. Another milestone on our way to a green event.