There are numerous Park&Ride park areas available near the show grounds. Shuttle buses take you to the main entrance fast and easily – and of course back to your car after the event.
The public APAG parking is available in the tournament week. The "APAG-Shuttle" goes directly to the tournament grounds, entrance Albert-Servais-Allee. If you park on one of the APAG parking areas, the use of the shuttle buses from and to the parking areas "Grüner Weg" (APAG-Shuttle) is free of charge.
Please note that from Tuesday till Sunday Evening after the end of the event Soerser Weg will be a one-way street from the corner of Merowinger Straße onwards heading in the direction of Eulersweg. On Saturday the Soerser Weg will be closed for traffic from 8 am till 6 pm due to the Eventing (this also applies to cyclists).
During the concert "Horse & Symphony" there is public parking at the Eissporthalle/Ice Pavillion Hubert-Wienen-Straße. The car park is also available to concert visitors free of charge on both days (as long as there is capacity).
Car parks for wheelchair users (with valid pass) are available only after registration (please contact us under Tel. +49-241-9171119 to register for wheelchair user-parking) on a parking space nearby the show grounds.
Bicycle parking is possible on the main forecourt and alongside the Soerser Weg.
Navigation: "Krefelder Straße".
Official Hotel Reservation Partner
Camping
We would like to inform you that neither the aachen tourist service e.v. nor the Aachen-Laurensberger Rennverein e.V. are responsible for the listed camping grounds and they assume no liability.
Download
More information about Camping in Germany, Belgium and the Netherlands.
HANDICAPPED ACCESSIBLE CHIO AACHEN VISIT
It is of great importance to the Aachen-Laurensberger Rennverein e.V. that visiting the CHIO Aachen is as nice and uncomplicated as possible for everybody.
Here you can find all information.
As the visitors at the World Equestrian Festival are accustomed, the CHIO Aachen 2021 again offers a wide variety of culinary foods for every taste.
You can find further information here.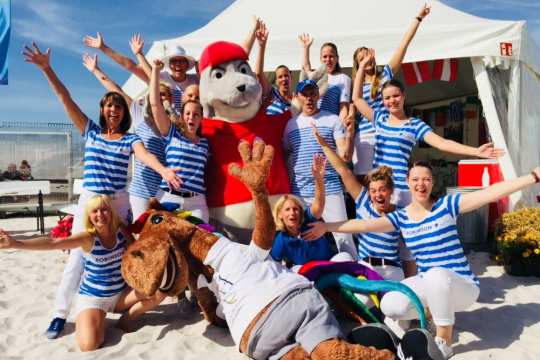 Fun, action and professional care...
...for our youngest CHIO Aachen-visitors!
Here children aged between four and twelve are supervised free of charge. A team of 17 persons will be standing-by from Tuesday to Sunday in the Child Care, all of whom have pedagogic training. The comprehensive service offers game shows that the children can participate in a creative children's studio, CHIO Aachen obstacle parcours, glitter tattoos as well as other exciting activities. Furthermore, the children can test their knowledge in a quiz on the subject of riding. For the very young children from 4-6 years of age, there will be a special play area.
Fun and action
at CHIO Aachen Kids Club
Impressions
01
02
03
04
05
06
07
08
09
09