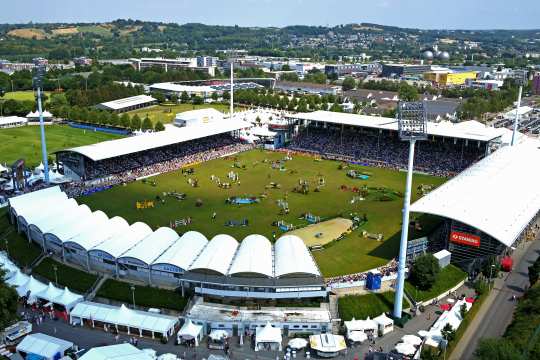 Ticket information for the CHIO Aachen 2021
Dear ticket customers and friends of the CHIO Aachen,
We are looking forward to celebrating the CHIO Aachen together with you from September 10th-19th, 2021.
The best athletes will be travelling to the Aachen Soers again with their so special and exceptional horses. World-class sport in our five CHIO Aachen disciplines again at last! We are particularly looking forward to the new Olympic winners – here in Aachen, in the living-room of the equestrian sport.
Your health and that of all the athletes and employees is more important than ever to us. Which is why we are currently planning a reduced capacity in coordination with the authorities. Hence, we would now like to give you, our loyal guests and fans, the opportunity to secure your admission tickets now.
To purchase your tickets, please select the grandstand and the block of your choice here. A precise selection of the seats is not possible this year due to the special circumstances. This will enable us to react to the situation in September flexibly and offer you the best possible health protection. What happens next? Once registered, we will inform you about your actual seats in due time before the show begins. All further details can be found in the online ticketshop.
Important notes:
Tickets for the events that were cancelled due to COVID-19 (CHIO Aachen 2020, 29.5.-7.6. / CHIO Aachen 2021, 25.6.-4.7.) are not valid for this new event, CHIO Aachen 2021, 10. – 19. September.
The advance sale CHIO Aachen 2022 is expected to start in November 2021.
We look forward to being able to experience our beloved CHIO Aachen again this year together with you. See you at the Soers.
Your CHIO Aachen Team