Carl Meulenbergh re-elected
Carl Meulenbergh remains President of the Aachen-Laurensberger Rennverein e.V. (ALRV). The members unanimously re-elected him to office during the General Annual Meeting on Tuesday evening. Wolfgang "Tim" Hammer was appointed as a new member of the Supervisory Board. He succeeds Dieter Junghans, who didn't run for office due to his tight time schedule. Like Meulenbergh, the other members of the Supervisory Board Baron Wolf von Buchholtz (Vice President), Hans Kauhsen, Wolfgang Mainz, Stefanie Peters and Peter Weinberg were also re-elected for a term of four years.
80 days before the CHIO Aachen 2016 kicks off, Carl Meulenbergh took both a look back and a look forward. Back to the exceptional year 2015 with a show in May and the European Championships in the summer. "So many chapters of equestrian sport history have already been written in Aachen, but 2015 will go down as a very special year in the history of the ALRV," stated Meulenbergh, who was delighted with the outcome of the last year. He not only showed great enthusiasm for the top sport experienced, but also about the fact that the European Equestrian Championships succeeded in writing black figures, "which is not something that can be taken for granted today when it comes down to major events." In 2016, the visitors will once again expect to experience "what distinguishes us: Tradition, a folk festival and of course top sport."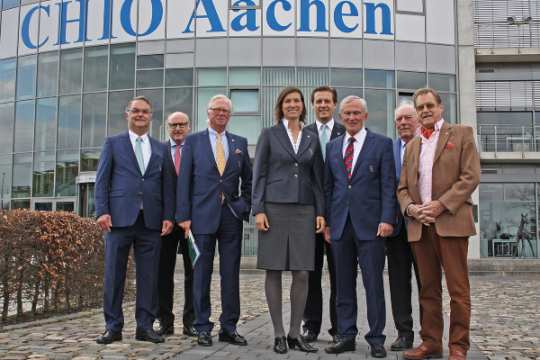 The ALRV Chairman and Show Director, Frank Kemperman, particularly addressed the last point: "2016 is an Olympics year, almost all of the participating nations will take the decision as to who will be flying to Rio in Aachen." This alone will guarantee high-class and exciting competitions. However, the visitors can not only look forward to sporting highlights, but also to a thrilling supporting programme. For example, the organisers are relying on the successful concept of the European Championships for the Opening Ceremony on Tuesday, July 12th: There is going to be a 90-minute, top-class floodlit show programme. Furthermore, a very special gala is awaiting the CHIO Aachen guests on Friday, July 15th, in celebration of the 90th birthday of the show jumping legend, Hans Günter Winkler. "Our spectators love him, Aachen is his living-room, it is going to be very emotional," commented Kemperman.
Kemperman's fellow board member, Helen Rombach-Schwartz, also had some good news to announce: In spite of the considerable extra expenditure for the European Championships and the extensive investments in the showgrounds, the annual balance sheet, which was checked by the auditing company, Ernst & Young, finished on a profit of almost 41,000 Euros.
Carl Meulenbergh showed his particular gratitude to members, who have remained loyal to the ALRV for many years. He paid tribute to the following members accordingly:  Gabriele Meeßen, Ulrich Schloemer, Jürgen Wibelitz, Franz Zimmermann, Elke Braun, Dirk Walter Courté and Norbert Skipka (all 25 years), Friedrich Wilhelm Czarnojan, Dr. Heinz-Eike Lange, Bischoff and Vielhauer GmbH, Helmut Metzmacher, Friedrich A. Neumann and Cornelia von Rüxleben-Plöger (all 40 years) as well as Rüdiger Hagemann and the Kur- & Badgesellschaft mbH for 60 years of membership.