Annica and Christof - YouTuber and top chef
Why Annica now knows that oysters can taste good and Christof has learnt that you can live from YouTube
She – Germany's most famous equestrian sport influencer. He – Aachen's best chef. Both of them – wonderful entertainers. So, it was somehow obvious that Annica Hansen and Christof Lang would get on like a house on fire from the very first moment. We brought the two of them together, actually to cook, but indeed they spent most of the time chatting and laughing.
At "La Becasse" in the Hanbrucher Straße in Aachen, which is decorated with a Michelin star, they learnt a great deal from each other: For instance, Annica now knows that oysters can really taste good and Christof has realised that you can live from being a YouTuber. The chef came up with a menu comprising of oysters with bacon and chicory, followed by asparagus salad with salmon and frisée, with soufflé as desert refined with Grand Marnier and raspberries.
As such, he had already successfully fulfilled the first of two tasks set: Namely to create a menu that suited this year's CHIO Aachen partner country, France. The fact that there are so many words ending in an e with an accent is proof of that. The second prerequisite was that it shouldn't be too difficult to cook or prepare the various dishes. Because we also want to demonstrate that: even busy YouTubers and equestrian athletes can become top chefs with a few tricks, the right recipes and first-class ingredients: The dishes not only look good, they taste great too.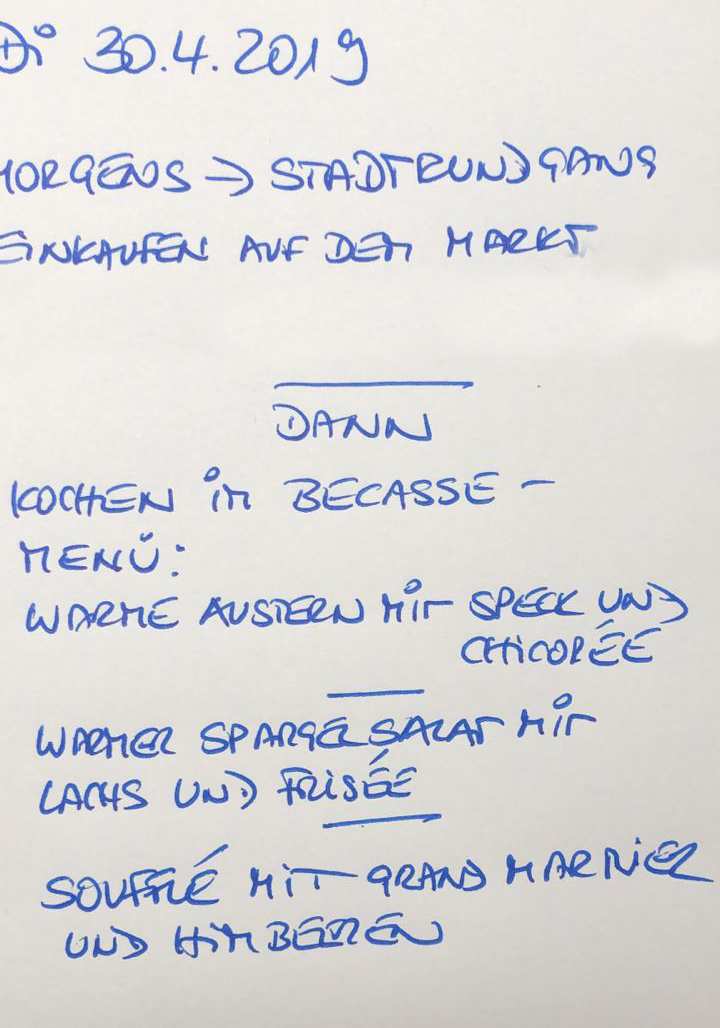 The pair of them got on extremely well in the relaxed atmosphere of "La Becasse" – which incidentally tongue in cheek reflects the humour of the proprietor, which one wouldn't actually suspect at the first glance. Whether in the form of the "arse with ears", which discretely stands on a small gallery in the restaurant or the inscription on the doors of the washrooms: "Bla" for the men, "Blabla" for the ladies.
One learnt a great deal from the video. Which saying for instance Christof Lang likes to quote from his probably most famous master – Paul Bocuse – why he always takes a coffee machine with him when he travels to France, that Annica's horse "Wölbchen" has more followers than she does, which deal Annica Hansen has with her boyfriend regarding the kitchen – and why he doesn't really find it fair, but above all: The fact that the finest cuisine can actually also be simple. "Anyone can cook this menu," assured Christof Lang, who places great value on fresh ingredients on his morning shopping trips. Even if the stroll through the morning market in front of Aachen's Town Hall was partly just show for the camera, because an establishment like "La Becasse" cooperates with regular suppliers.
It was also a new experience for the cameraman and video producer, Morteza Yazdi: "Of course, I have often occupied myself with the themes eating and cooking, but such a detailed production was also a premiere for me too." However, his nervousness soon disappeared because it was an easy task for "Mo", who will be supporting the social media team during the CHIO Aachen, "because the team was fantastic and Annica and Christof were totally relaxed".