You definitely won't have seen the equestrian sport stars like this before. Inspired by this year's partner country, Great Britain, clad in exceptional outfits created by the design student, Pauline Oetken, they portray part of Britain's (fashion) history. They were photographed by Diana Wahl.
British fashion stands for style and awareness for tradition. This was also what the design student, Pauline Oetken, thought and immediately plunged herself into the historic subtleties of the British fashion world especially for the CHIO Aachen. The outcome is an extravagant, UK-style collection with great love for detail, which had a breath-taking impact both on the catwalk of her fashion school in Düsseldorf and in front of the lens of CHIO Aachen's photographer, Diana Wahl.
The results are impressive images. Perfect. Multifaceted. Typically British! See for yourself:
Magnificent, elegant, royal: The double World  Champion, Charlotte Fry, is the Queen of Dressage.
On the trail of the mythical King Arthur and his legendary sword Excalibur: The Olympic gold medallist in eventing, Julia Krajewski.
The machine look: The show-jumper, Jana Wargers, symbolising the "Industrial Revolution", which started in Great Britain in the 19th Century and went on to change the industry forever.
Paying homage to tartan: Pas de Deux World Champions, Chiara Congia and Justin van Gerven reviving a Scottish tradition.
The Rolex Grand Prix winner of Aachen in 2022 flying the flag: Gerrit Nieberg lends the Union Jack a face.
01
02
03
04
05
06
07
08
09
10
11
12
12
The Scottish tartan has progressed into becoming a trendy, stylish pattern, above all thanks to the fashion icon, Vivienne Westwood. With her seductive, plaid attire, the influencer, Scarlett Gartmann, is certainly proof of that.
Following the footprints of Sherlock Holmes: The influencer, Anna Den, wearing a modern interpretation of a tweed cape, which with its earth-coloured, tartan pattern conjures up memories of the legendary, cult detective.
Classic meets punk: Whilst the dressage rider, Charlotte Rummenigge, is presenting the Union Jack elegantly, her  fellow colleague, Ann-Sophie Kimmich, personifies the punk  movement of the 1970s with her studded, silver look.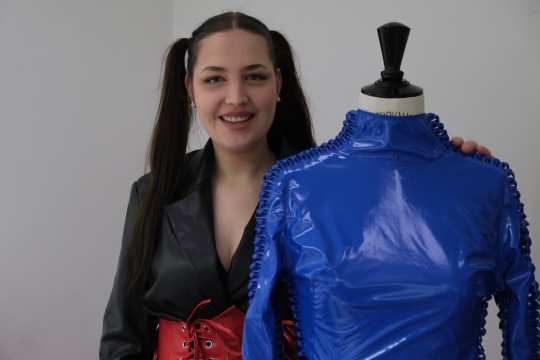 01
02
03
04
05
06
07
08
09
10
11
12
12