In 2022, Charlotte Fry was crowned as the reigning double World Champion at the age of just 26 and climbed to the top of the world ranking list for the first time in her career. An interview with the young British rider, who has since found a home in the Netherlands.
Last year you were crowned as the double World
Champion in Herning, Denmark. It came as a surprise
for many, was it a surprise for you too?
…yes, it was. A few months have passed in the meantime, but to be honest, I still have to pinch myself every now and again to believe that we really won the World Championship title there. And if that doesn't help, I take a look at the medals. Watching them twinkle and holding them is simply a totally incredible feeling every time.
You have been enchanting the dressage world
with Glamourdale ever since. What is he like?
For me "Glammy" is a "one in a million horse". He is so special, so good to handle and uncomplicated to train with. He simply always wants to try his very hardest and loves presenting himself. Being allowed to sit on his back is the most incredible feeling one can possibly have as a rider. I love every second of it.
When did you come into contact with horses for
the first time?
I grew up on the dressage yard of my family. I actually started riding before I could even walk. So, it was on the cards that I would become a rider myself – just like my mother.
In 2014, you left your home country Great Britain
and found a new home in the Netherlands…
…yes, I have been at Van Olst Horses for eight and a half years now. For me it is a very special place with very special people and in the meantime it has become my second home. I am deeply grateful for the incredible opportunities they offer me here, for the many fantastic horses I am allowed to ride and for the wonderful support
I receive.
Carl Hester discovered your huge talent and
established the contact to Anne van Olst. Looking
back on it, was it exactly the right way?
Definitely. There is a very close bond between Anne van Olst and myself. Over the years, she has become much more than just my trainer. She is always there for me, we can talk about everything and her way of training is always inspiring time and again. I have already learnt so much from her. She places great importance on precise
basic training and helps me find out what each horse needs in his daily work.
A normal day in the life of Charlotte Fry, what does
that look like?
I love getting up early. I am normally at the yard at 6 a.m., I feed the horses and then I start riding. 12 to 14 horses are on my schedule a day. There is everything represented – from the three-year-old youngster through to the fully-trained Grand Prix horse – this diversity makes my work particularly exciting. My day finishes around 5 p.m. to 6 p.m. Then, I take my dog "Bami" out for a small walk, then we go home so that I can rest ready for the next day.
You seem to have a very special relationship
to "Bami"…
The two of us are inseparable. He was a gift from Anne for my 21st birthday. He has been at my side ever since. He is a real sunshine, travels to the shows with me as my talisman – and he loves cameras. He always knows exactly how to pose (laughs).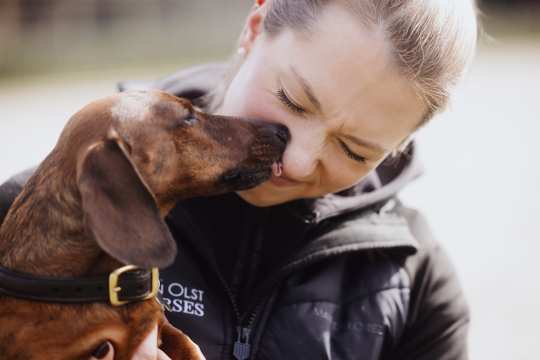 You are only mid-twenty and are already a double
World Champion. Where does it go from here?
I simply want to make sure myself and my horses continue having fun doing our sport together. Nobody can take away what we have achieved together. But of course there are still a few goals I would like to achieve.
Winning the Deutsche Bank Prize at the CHIO Aachen
is still missing from your list of victories…
Yes, that's right. It would be cool to read my name on the
winners' board one day.
Great Britain is the official partner country
of the CHIO Aachen this year. Is that something
special for you?
Of course, it is really exciting. Great Britain has so many distinctive facets, it is going to be fantastic to experience Aachen surrounded in British flair.