A portrait on ALRV President Stefanie Peters
Her first visit to the CHIO Aachen? Stefanie Peters was still in her mother's womb. Today, 48 years later, the entrepreneur is the first female President of the Aachen-Laurensberger Rennverein (ALRV) and will thus significantly shape the future of the traditional show.
Stefanie Peters has already experienced the CHIO Aachen in many roles: Initially as a visitor at the side of her parents, later as a rider and a volunteer. She held the position of Discipline Manager Dressage for ten years, in 2008 she was the first woman to be appointed onto the Advisory Board. Without doubt: She knows the show like the back of her hand. "As a result of my different functions I have gained insights into nearly all areas," Peters stated. Her presidency is therefore no surprise, but rather a logical consequence. "At the time, Vice President Wolf von Buchholtz had suggested that one should look for a successor to Carl Meulenbergh amongst one's own ranks. Someone, who had long-standing ties to the show and who would at the same time blow fresh wind into the sails of the Advisory Board," is how the 48-year-old explained the plan that had been made well in advance. Of course, she realises it is a demanding task, she said, but "we are facing the many challenges of the future as a team, so I am very much looking forward to it."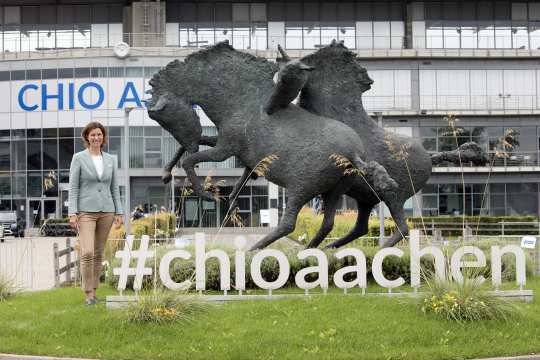 A passion for the equestrian sport
Peters, who comes from Aachen, has not only always had close ties to the CHIO Aachen, but also to riding itself. Both of her parents are horse enthusiasts and they encouraged their daughter to learn to ride, paid for her training and finally her own horse. Together with "Davidoff", Stefanie Peters discovered her passion for dressage. "This horse was my one and all," she recalls talking about the gelding that was bred by her trainer, Hans Rueben. Together with "Davidoff" she made it to advanced level – and had the opportunity to compete at the CHIO Aachen: In 1997 – in the old stadium at the time – and in 1999 the pair took part in the "Small Tour". "Being able to compete there is an experience one never forgets," reported Stefanie Peters and added with a grin: "We weren't too bad at all in 1997, we were placed three times. Two years later we allowed my fellow competitors to claim the rosettes." The moment when she was awarded the Golden Riding Badge during the show was also particularly emotional and memorable for her too.
But horses not only played a role in Stefanie Peters' life in the sporting sense initially, but also in her professional life. "After leaving school I wanted to try things out for myself and see where my interests lay," she recalled. So, after passing her higher education exams, she spent her time at the stables training horses. "I am sure I would have carried on doing that for longer," explained Peters and reported with a laugh how her parents had reminded her that going to university would perhaps be a good idea. She took their advice and took a degree in International Business Administration in Sittard.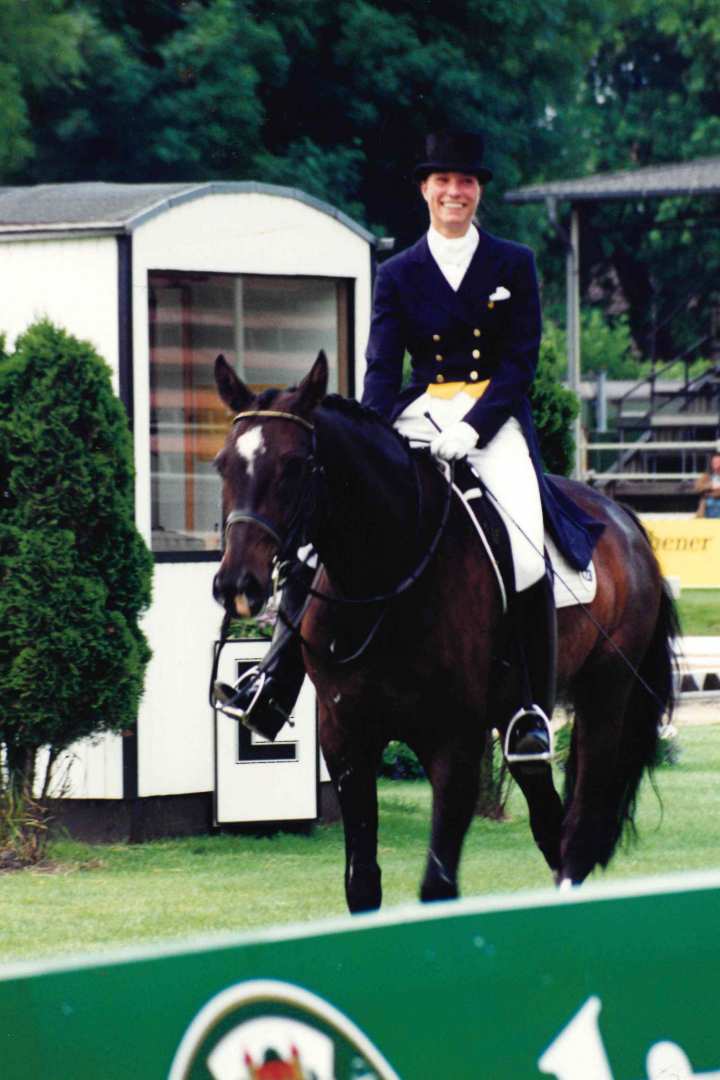 Via detours to the top position
Afterwards, Stefanie Peters initially returned to the stable yard. She moved to England, where she schooled horses and trained riding students. A time that shaped her, but which didn't fulfil her expectations long-term. "I enjoy learning different things, am interested in a wide range of subjects and at some point time I knew that riding was only to be my hobby," she reported about the phase when her plan to join the family business after all became more and more concrete. "For a long time, I didn't want to take on so much responsibility, but the older I got, the more I wanted to carry on the family tradition." And the latter dates back more than 190 years. Founded in Aachen in 1830, the core business of the NEUMAN & ESSER GROUP (NEA) is piston compressor systems and grinding systems for industrial use.
Transparency and team work as the success formula
On January 1st, 2003, Stefanie Peters joined the family business. Four years later together with her brother Alexander, in the fourth generation, she took over the management from her father and thus also the responsibility for around 1,200 employees at ten locations around the globe. In spite of the size of the company, flat hierarchies are very important to the siblings. "If one has good people, one should also give them scope in their work and ideas," is Stefanie Peter's maxim and she added: "I have made the experience that transparency and involving all parties concerned always leads to the best result." So, it is a matter of course for her to visit all subsidiaries of the company regularly to engage in a personal exchange. "Added together, I spend around six weeks a year travelling for this purpose," the entrepreneur said.
Stefanie Peters is also betting on a team-oriented type of collaboration for her new task as President of the ALRV: "My aim is to further strengthen the brand CHIO Aachen, together with the executive board of the ALRV and the management of the Aachener Reitturnier GmbH." This also includes the establishment of the CHIO Aachen CAMPUS, which is not only about top competition sport, but also about digital further development, about innovations and new ideas, about training, promoting the youth as well as the sport for the masses and amateur riders – 365 days a year. "We will take advantage of the appeal of the CHIO Aachen for this purpose, as well as the existing infrastructure, our know-how and our networks," is how Stefanie Peters explained the project.
She ended her own equestrian sport career in 2012. "Unfortunately, our last own-bred horse had a chronic illness. The job simply didn't let me pursue my riding career with a new horse," stated Stefanie Peters without any regret in her voice: "For me it is either all or nothing even when it comes down to sport. That is the only way I find it fun, anything else simply isn't up my street." However, in the meantime the 48-year-old does visit the stable yard quite regularly again – namely when she accompanies her daughter Amelie to her riding lessons. And the seven-year-old, like her husband Peter, will definitely be there in September when Stefanie Peters will experience the CHIO Aachen again – this time in her new role as President of the ALRV.