Social Media stars are coming to the CHIO Aachen showgrounds on May 5th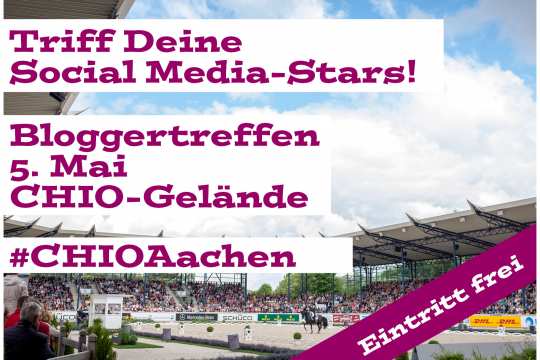 Social Media stars are coming to the CHIO Aachen showgrounds on May 5th
For a lot of young people they are even more popular than Ludger Beerbaum– the social media equestrian sport stars. The most famous among them are going to visit the traditional CHIO Aachen showgrounds on May 5th to meet up with their fans and followers. Admission is free of charge.
Photos they post via Instagram and Facebook, YouTube or blog reach hundreds of thousands of people within seconds. Two million followers unite the 15 social media stars, most of whom will also be bringing their horses with them to the Soers. The fans are looking forward to meeting Anja Mertens (Anjasolido), Annica Hansen, Christina Braunecker-Lang (christina_rubinio), Hannah Tonnemacher (Miss.Skyfire), Harriet Charlotte Jensen, Kim Burschik, Marina Schuster (Marina and the ponies), Miriam Schwärzler (miriamviola), Nadine Brenndörfer (mr_and_mrs_button), Nina Kaupp, Saskia Meyer (Biniebo), Scarlett Wyrobnik (scarlett_equinelife), Viviane Dittmar (viviaaane_n) and Team GB (Caro Bucher & Christina Grenzdörfer).
The get-together with the Internet stars begins at 9.45 a.m. at the CHIO Aachen showgrounds. The bloggers will be at the disposal of their fans and followers for the whole day, furthermore there is going to be a supporting programme featuring the dressage star, Sönke Rothenberger; the Portuguese show-jumper, Luciana Diniz – who came second in the Rolex Grand Prix at the CHIO Aachen last year – and the vaulters from VV Köln-Dünnwald.