CHIO Aachen Magazine with Sandra Auffarth
The current CHIO Aachen Magazine with totally new photos of the winner of the SAP-CUP, Sandra Auffarth. We also visited the Rolex Grand Prix winner, Gerrit Nieberg, did a detailed review of the CHIO Aachen 2022 and took a special look at the World Championships in Herning, Denmark.
The eventer, Sandra Auffarth, was crowned winner of the SAP-CUP for the second time at the CHIO Aachen 2022. She and her Viamant du Matz both shone out majestically in front of our cameras too and clearly demonstrated top modelling qualities. The elegant motifs are on display in the hot-off-the-press CHIO Aachen Magazine. The new issue not only looks back on the World Equestrian Festival, the CHIO Aachen 2022, but also features exciting background stories, interesting interviews and photo shootings with a WOW effect.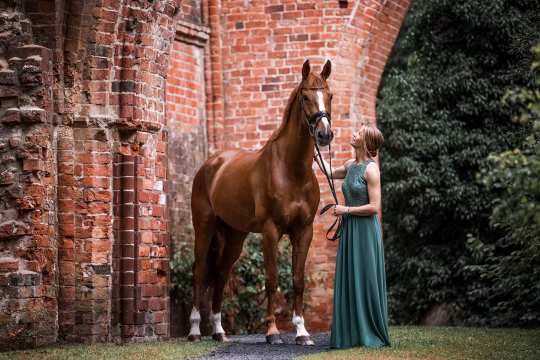 The winner of the Rolex Grand Prix, Gerrit Nieberg, opened the gates of the Berl Stud in Münsterland for us and you will learn why the heart of the CHIO Aachen will beat in the metaverse in the future and which equestrian sport stars are the first proud owners of a CHIO Aachen NFT, a "CHIO HORSE". We have additionally outlined the exciting offers of the CHIO Aachen CAMPUS and the heroes of the World Championships in Herning, Denmark. As a special treat the photos marked in the magazine can be scanned using the CHIO Aachen app (available free of charge from the stores). The QR codes conceal digital contents and stories, which didn't fit into the printed magazine.
The CHIO Aachen Magazine is published twice a year. It costs 6.50 Euros and is available from the CHIO Aachen fan shop. It is also sold at the offices of the ALRV.