2nd CHIO Aachen Hackathon in November:
10,000 Euros in prize money – innovative concepts for a "SUSTAINABLE CHIO"
The CHIO Aachen has long since been a top digital event too. The organisers are once again looking for developers and creative minds, gamers and programmers, students and designers, horsey and non-horsey people, start-up founders and texters. The CHIO Aachen CAMPUS and the digitalHUB Aachen are namely organising the 2nd CHIO Aachen Hackathon from November 10th-12th.
10,000 Euros in prize money await the teams with the best ideas. In terms of the topic, the 2nd edition revolves around the theme: the "SUSTAINABLE CHIO": So, it is all about sustainability, with a special emphasis on ecological and social sustainability. Climate and environmental protection as well as a social and fair togetherness is extremely important to the organisers of the international top event, which attracts over 350,000 visitors to the most famous equestrian site in the world year after year. "Handling resources carefully, a reduced impact on the environmental, saving energy as well as sustainable and social conduct are matters close to our hearts," explained Philip Erbers, member of the board of the Aachen-Laurensberger Rennverein e.V. (ALRV), organisers of the CHIO. "Digital innovations are the key towards a more sustainable sporting event. In the scope of the 2nd CHIO Aachen Hackathon, we would like to put the digital power of the technology-oriented location Aachen to use to come a step closer towards our aim – the CHIO Aachen as a 'green event'," Stefan Knopp, Director of the CHIO Aachen CAMPUS, added.
The participants of the hackathon are invited to develop new concepts over the course of three days and two nights in the stylishly decorated Albert-Vahle Arena and put these into practice in spontaneously formed teams. The overarching questions are: How can the CHIO Aachen become even greener? How can resources be saved? How can topics like inclusion and accessibility be further developed? Which innovative techniques can be of aid here?
The participants will receive the support of experienced start-up coaches from the digitalHUB Aachen during the event as well as a pitch training for the newly developed ideas, business models and prototypes. A renowned expert jury will select the best concepts in the scope of a public award ceremony. Furthermore, the CHIO Aachen will offer the opportunity of a real chance to implement the innovations including intensive press work and the communication of the best ideas.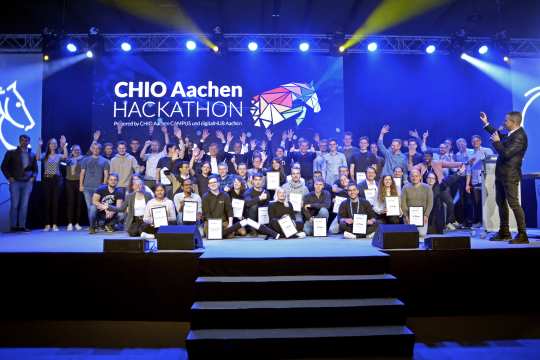 Programme
Thursday, November 10th, 4 pm until midnight – get started! 
• Greeting & keynote
• Formation of teams
• Kick-off
Friday, November 11th, 9 am until midnight – time to hack! 
• Developing, designing, programming
• Accompanied by mentors
• Workshops
Saturday, November 12th, 9 am until 4 pm – win the prize!
• Pitch training
• Finale: Pitches of the teams
• Award ceremony
• Networking and wrap-up