Will the Dane Cathrine Dufour make it onto the legendary victory board?
Cathrine Dufour has already celebrated three superior victories at the CHIO Aachen 2022. In addition to this, she also triumphed with the Danish team in the Lambertz Nations' Cup. In today's Deutsche Bank Prize, the 30-year-old has the chance to fulfil a dream by making her mark on the legendary winners' table. The omens for this are good. Together with her 10-year-old sport partner Vamos Amigos, the world number two danced to the top of the classification in both the Prize of the Tesch Family and the MEGGLE-Prize with a comfortable lead. After the disqualification of record winner Isabell Werth and Quantaz, the German Frederic Wandres with Duke of Britain FRH, the Finn Henri Ruoste with Kontestro DB and the Swede Patrik Kittel with Touchdown are among the fiercest competitors. The decision in the Deutsche Bank Stadium will be made from 10 am.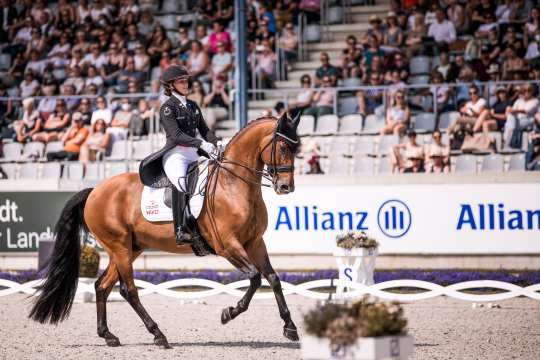 Rolex Grand Prix: Chasing the crown of the equestrian sport
What a final: At 2.30 pm., the first rider will enter the ring in the famous Rolex Grand Prix. It is going to be thrilling! Because only the riders, who have put in top performances at the CHIO Aachen 2019 are allowed to compete in this class of all classes. And they will do their utmost to win. Why? Because this is not only one of the most demanding jumping competitions in the world, it is also endowed with the highest prize-money too, namely 1,5 million Euros.
The Rolex Grand Prix of Aachen also makes up part of the Rolex Grand Slam of Show Jumping, which unites four of the best shows in the world via a spectacular bonus system: The CHIO Aachen, the CSIO Spruce Meadows 'Masters', the CHI Geneva and The Dutch Masters. The rider, who wins three shows in succession, collects 1 million Euros on top of the prize-money. If a rider succeeds in winning a fourth Major directly thereafter, he picks up an additional bonus of 1 million Euros.
Two riders have the chance here at the CHIO Aachen to secure a bonus in this prestigious series. On the one hand, there is Daniel Deußer. The German won the Rolex Grand Prix at The Dutch Masters in March. Accordingly, he has the chance to win a bonus of 500,000 Euros for the second Major victory in a row here in Aachen today. And with Martin Fuchs, the winner of the CHI Geneva 2021, another rider still has the chance to win the 250,000 euro bonus for two non-consecutive victories within a Grand Slam cycle.
But other riders also want to have a say in the victory in this prestigious competition: Olympic champion Ben Maher is taking part as well as Steve Guerdat from Switzerland, Max Kühner from Austria and the German riders Christian Ahlmann and Jana Wargers. It will be exciting!