Daniel Deusser wins the Spruce Meadows Masters
Daniel Deusser is the new contender for the Rolex Grand Slam of Show Jumping. Once again. Steve Guerdat from Switzerland comes second in a top-class competition.
In the saddle of his outstanding mare, "Killer Queen", whom he already steered to victory at the CHIO Aachen in 2021, Deusser relegated the Swiss rider Steve Guerdat into second place. Gerrit Nieberg, who after winning in Aachen this year travelled to Canada as the contender of the series, displayed nerves of steel during his Masters premiere and notched up a fabulous fifth place.
Geneva is now the only Major that Daniel Deusser hasn't succeeded in winning since the beginning of the Rolex Grand Slam of Show Jumping in the year 2013. He finally rode to victory in Spruce Meadows, that legendary place at the gates of Calgary and within sight of the Rocky Mountains. Deusser reported that he had already watched this show on TV as a child and that he still had old VHS video tapes of Spruce Meadows at home in his cupboard. And that winning here is a "fantastic feeling".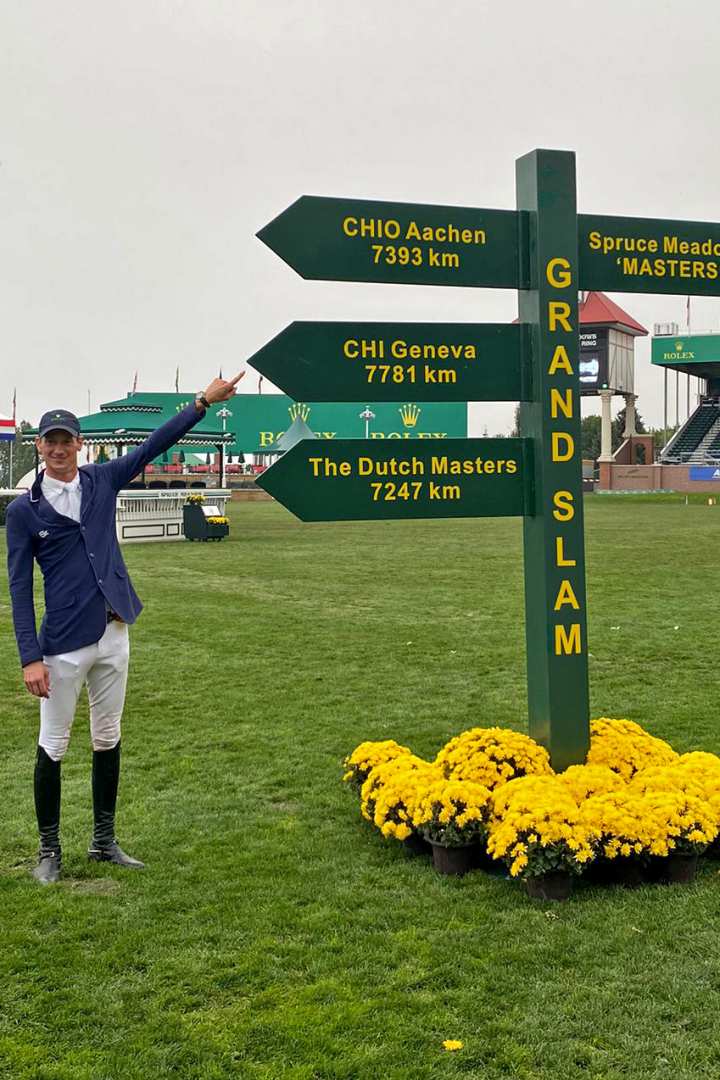 From December 8th-11th, the CHI Geneva will be inviting the top show-jumpers in the world to the legendary Palexpo. For Daniel Deusser from Germany it is going to be a very special show. After his victory in the Spruce Meadows "Masters" yesterday, he will be setting off for Switzerland as the contender for the Rolex Grand Slam of Show Jumping. Shortly before, the German had entered the jump-off in the CP International, presented by Rolex as the last starter – knowing that a clear round would mean victory. His competitors had not been able to achieve this. And with his powerful mare Killer Queen VDM, the 41-year-old had brought a sporting partner to Canada, who is known to particularly like large grass arenas, which she had most recently impressively demonstrated with her victory in the Rolex Grand Prix at the CHIO Aachen 2021. In the legendary "International Ring", the two of them once again knew how to show off in a big way: With a lot of overview and calculated risk, the two of them managed to bring the victory home safely. The Swiss rider Steve Guerdat came second with Vernard de Venard de Cerisy, ahead of the young Belgian rider Gilles Thomas with Aretino. The winner of the CHIO Aachen 2022, Gerrit Nieberg (GER), placed fifth with his Ben. Daniel Deusser is now once again the current contender for the Rolex Grand Slam, the next stop of this prestigious series is the CHI Geneva in December.